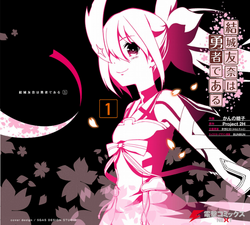 Yuki Yuna is a Hero (結城友奈は勇者である, Yūki Yūna wa Yūsha de Aru) is a manga series based on the anime of the same name that serialized in Dengeki G's Magazine. The manga went on a hiatus in September 2015 due to Tōko Kanno's health but returned from hiatus in January 2017.
Illustrator: Tōko Kanno
Original Story: Project 2H
Original Draft: Takahiro (Minato Soft)
Original Character Designs: BUNBUN
Main Article : Yuki Yuna is a Hero
The manga is a straightforward adaptation of season one of the Yuki Yuna is a Hero anime.
Chapters
Edit
Volume 1 was released on November 27, 2014
Volume 2 was released on September 26, 2015
Volume 3 was released on August 26, 2017