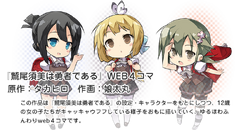 Washio Sumi's Hero Radio (鷲尾須美は勇者ラジオ, Washio Sumi wa Yuusha Rajio) is the spin-off Web 4koma to promote Washio Sumi is a Hero. It is posted on the official website and initially updated from May 7, 2014 to December 15, 2014. To promote the films, the 4koma updated again with extra chapters from January 27, 2017 to March 31, 2017.
Illustration: kotamaru
Original Story: Project 2H
Original Draft: Takahiro (Minato Soft)
Original Character Designs: BUNBUN
"Washio Sumi's Hero Radio" features Washio Sumi, Nogi Sonoko, and Minowa Gin.
Chapters
Edit
"Washio Sumi's Hero Radio" has 30 chapters and 9 bonus chapters.
| No | Release Date |
| --- | --- |
| Chapter 1 | May 7, 2014 |
| Chapter 2 | May 7, 2014 |
| Chapter 3 | May 14, 2014 |
| Chapter 4 | May 21, 2014 |
| Chapter 5 | May 28, 2014 |
| Chapter 6 | June 4, 2014 |
| Chapter 7 | June 11, 2014 |
| Chapter 8 | June 18, 2014 |
| Chapter 9 | June 25, 2014 |
| Chapter 10 | June 25, 2014 |
| Chapter 11 | July 2, 2014 |
| Chapter 12 | July 9, 2014 |
| Chapter 13 | July 16, 2014 |
| Chapter 14 | July 23, 2014 |
| Chapter 15 | July 30, 2014 |
| Chapter 16 | September 1, 204 |
| Chapter 17 | September 1, 2014 |
| Chapter 18 | September 1, 2014 |
| Chapter 19 | October 3, 2014 |
| Chapter 20 | October 3, 2014 |
| Chapter 21 | October 3, 2014 |
| Chapter 22 | November 4, 2014 |
| Chapter 23 | November 4, 2014 |
| Chapter 24 | November 4, 2014 |
| Chapter 25 | December 4, 2014 |
| Chapter 26 | December 4, 2014 |
| Chapter 27 | December 4, 2014 |
| Chapter 28 | December 15, 2014 |
| Chapter 29 | December 15, 2014 |
| Chapter 30 | December 15, 2014 |
| EX.1 | January 27, 2017 |
| EX.2 | January 27, 2017 |
| EX.3 | January 27, 2017 |
| EX.4 | February 28, 2017 |
| EX.5 | February 28, 2017 |
| EX.6 | February 28, 2017 |
| EX.7 | March 31, 2017 |
| EX.8 | March 31, 2017 |
| EX.9 | March 31, 2017 |
External Links
Edit