Be a Hero and help out the Yuuki Yuuna is a Hero Wiki by
expanding it
!
Uesato Hinata
Kanji
上里 ひなた
Romaji
Uesato Hinata
English
Hinata Uesato
Statistics
Age
14
15 (2019)
16 (UHiMi Chapter 5)
44 (FuYuYu)
Gender
Female
Grade
2nd Year of Middle School
Blood Type
AB
Height
150 cm
Favorite Food
Udon
Honetsukidori
Birthday
October 4
Status
Active
Family
N/A
First Appearance
Debut
Sprouting
Voice Actress/Actor
Japanese Voice
Kouno Marika
Uesato Hinata (上里 ひなた, Uesato Hinata?) is a main character in Nogi Wakaba is a Hero. She, along with five other girls, is a part of the first Hero Team. She is also the main character appearing in her titular series, Uesato Hinata is a Miko.
One of the members of the very first Hero team, and also a Miko[1], meaning that she can hear the voices of gods. However, she is not an actual Hero, and is therefore frozen in time during forestization like other non-Heroes. Her childhood friend is Nogi Wakaba, and they are very close. Like her, Hinata was born in the
Kagawa Prefecture
.
Hinata has long, rosy-purple hair that falls just below her waist. It is held back by a red headband with red ribbons. Her eye color appears to be a dark/moderate red. Her school uniform consists of a maroon shirt with a navy blue jacket and skirt. Parts of her outfit have light blue undertones.
Hinata is a very playful person who has been seen "flirting" with the other characters before, mostly with Wakaba. She cares deeply about her friends, and she feels that one of the most important things is seeing them smile. However, she is not afraid to speak her mind, especially if it involves what's right.
As a Miko, Hinata is able to hear the voices of the gods but in the form of stars and images and it is up to her to decipher them. This is useful to the Hero team because she is able to foresee Vertex attacks and other related events. She does not have any other abilities due to not having any fairies or other powers granted by the Taisha.
Hinata's childhood friend and fellow member of the first Hero team (despite not being a Hero). Even though Hinata's playfulness contrasts with Wakaba's seriousness, the two are very close. Hinata has been shown to care for Wakaba when needed, and Wakaba does not seem to mind this (most prominently seen here, where the former is cleaning the latter's ears).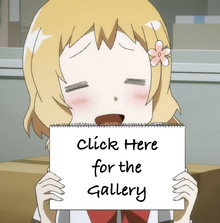 ↑ Ch.2: "A Miko is an oracle who can hear the voice of the gods. Thanks to that ability, Hinata was able to save numerous people during the attack. Although it says "hearing the voice of the gods", it is not through common speech, but rather in the form of symbols and suggestive hints that instructions are transmitted to her."
Community content is available under
CC-BY-SA
unless otherwise noted.