Kiryuu Shizuka
Kanji
桐生 静
Romaji
Kiryū Shizuka
English
Shizuka Kiryuu
Statistics
Age
15
Gender
Female
Grade
34d Year of Middle School
Blood Type
AB
Height
160 cm
Favorite Food
Udon
Birthday
March 10
Status
Active
Family
N/A
First Appearance
Debut
Bouquet of Brilliance
Voice Actress/Actor
Japanese Voice
Matsui Eriko
Kiryuu Shizuka (桐生 静, Kiryū Shizuka?) is a Miko and aided Akamine Yuuna on her missions.
Shizuka aided Akamine Yuuna and Miroku Renge with oracles from the Shinju.
Shizuka has long, grey hair tied up in a messy bun with a yellow bead and feather charm hanging off of it. She has green, cat-like eyes and fair skin.
She wears a white, long-sleeved shirt with frills decorating collar down to the bust. A black dress is worn over it that has four golden buttons on the frontside and extends to her knees. She wears black and white sneakers with no socks.
She acts rather highly over her friends Yuuna and Renge, but really does care about them like an elder sister. She likes to analyze people and their "character". She speaks in Osaka accent because of her love for comedy and she caught the dialect when watching videos and performances.
Shizuka aids both Akamine Yuuna and Miroku Renge in battling against the Vertex Terrorists. She gives the two most of the exposition.
Unlike other mikos whose often associated with Sakaki, Shizuka's flower motif is Lupin, which is said to represent imagination and always happy, as well as voraciousness.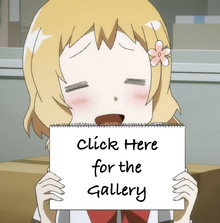 Community content is available under
CC-BY-SA
unless otherwise noted.