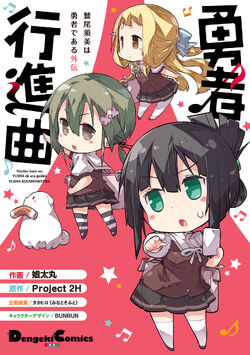 Washio Sumi is a Hero Side Story: Heroes' March Song (鷲尾須美は勇者である外伝 勇者行進曲, Washio Sumi wa Yusha de Aru Gaiden Yusha Koushinkyoku) is the spin-off 4koma manga of Washio Sumi is a Hero. It was released alongside the Web 4koma and the Hero Grand Prix 4koma on April 27, 2017.
Illustration: kotamaru
Original Story: Project 2H
Original Draft: Takahiro (Minato Soft)
Original Character Designs: BUNBUN
In this humorous, slice-of-life spin-off of Washio Sumi is a Hero, Sumi, Sonoko, and Gin set out on an adventure to return a lost puppy to its owner.
Chapters
Edit
External Links
Edit